Now A Major Motion Picture
by Cori McCarthy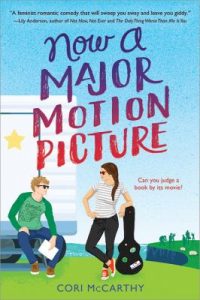 Our Rating: ⭐⭐⭐⭐ (4 out of 5 stars)
Reviewed by: Rachel Maggard
Now A Major Motion Picture revolves around a fantasy trilogy, Elementia, being made into a movie.  M.E. Thorne, the deceased author of the trilogy, is revered by many for having written a female-led fantasy trilogy similar to Tolkien's Lord of the RIngs.  However, her granddaughter, Iris, wants nothing to do with her grandmother's legacy, the movie, or any of the crazy fans.
Iris has lived under the cloud of her famous grandmother her entire life and wishes to be known by something other than the granddaughter of M.E. Thorne.  She wants to be taken seriously as a musician but isn't quite sure if people will truly believe her music is good or if they will say it is good because of her having a famous last name. At the beginning of the book, Iris and her brother (who, ironically, is a huge fan) head to Ireland to be on set of the filming of the movie adaptation of her grandmother's books.  Her brother sees this opportunity as a trip of a lifetime and she is going as his reluctant guardian.
Iris, at the beginning of the book, is against the movie being made and goes as far as trying to sabotage the filming process. But then she starts to see the director as a mentor. She finds herself starstruck by the leading actor and actress. And she begins to fall for the annoying yet charming, Eamon O'Brien, who plays one of the main roles.
I thoroughly enjoyed this book.  The fantasy aspect of the story made the fangirl in me happy and the male vs. female protaganist discussion was a refreshing point of view. The behind the scenes look at making a movie was woven into the storyline so well and, finally, I absolutely loved the setting being in Ireland.
If you can imagine a mashup between The Hobbit by Tolkien and Fangirl by Rowell and that intrigues you, this book would be worth checking out.
Bonus: At the back of the book, there is a glossary that defines film, fantasy and Irish terms. Also, there is a playlist. Check out the book for the full playlist but click here for a few of the songs on Spotify.
Find More Book Reviews: